Are Your Books a Mess?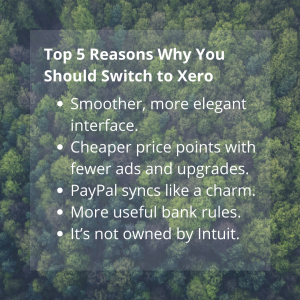 When onboarding your business for tax planning services, our first recommendation is often to start your books from scratch in an online, cloud-based accounting software called Xero. Rather than clean up the work you've probably been doing in QuickBooks, if your books are even a little messy, it's less time consuming and less expensive to start fresh on Xero. If you've already got a love-hate relationship with QuickBooks, you'll walk away especially happy about a clean, streamlined accounting platform that brings you the important information you need, while our team sweats the small stuff.
When I started working in accounting, my reaction to QuickBooks Desktop was, "Really? This is it?" It was hard to believe this nineties-vibe software, assaulting me with loud beeps and pop-up windows, was the pinnacle of bookkeeping in 2012. QuickBooks' developers seemed to change as little as possible, perhaps to placate an aging demographic of users content with a 20-year-old interface. I was relieved to find QuickBooks Online (QBO), with its modernized interface and useful cloud-based tools, but as I spent more time with it I found it wasn't much different under the hood. I was looking for a sleek, intuitive, web-powered accounting platform. That's when I found Xero.
Why I Love Xero
Xero was built from the ground up to exist on the internet. This means you can reconcile directly from your bank feed, download your bank statement directly from the source, and automatically categorize entries based on statement details. Reconciling PayPal accounts with QBO is an actual nightmare, but with Xero, it's a breeze. Xero is simply a more intuitive, modern way to manage your income and expenses.
User-Centered Simplicity
The Xero dashboard shows you what you want to see first: Your bank accounts. One graph shows you the recent history of each account at a glance, as well as how many transactions you need to reconcile. Your invoices are right at your fingertips, and there's a handy graph of your monthly cash flow front and center, too. Just the facts and only the facts!
Consider the two dashboards side by side: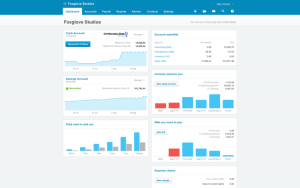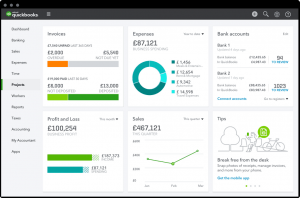 On the left, Xero's interface has been designed with the user in mind first, with a simple, undistracting color scheme and straight-forward graphs for tracking your income and expenses.
Make the Switch Painlessly
Sounds pretty nice? You're probably also thinking, "The switchover must be a pain." Not if you hire Olympia Tax Service. I love getting folks set up on Xero. Initial set up, integration and ongoing full-service accounting are all included in our tax planning service and so is a subscription to Xero.
Bundle bookkeeping with tax planning and tax preparation to streamline your small business's finances! Book your consultation with Olympia Tax Service today.